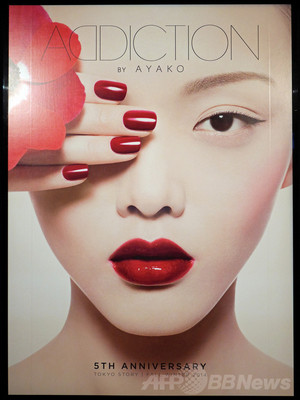 Rila Fukushima for Addiction by Ayako. Image from AFPBB
Sometimes I'm baffled as to why Japanese (or Asian) women eagerly adopt to the Western standard of beauty while many (from East or West) consider features such as porcelain skin, almond eyes, and full lips as beautiful. That, complete with the inspiration behind "Tokyo Story" (Ozu's movies are some of my faves, particularly "
Good Morning
") by Addiction is enough to get me riled up to copy the look for this week's MOTW. Granted, this is one of those fake MOTW, not suitable for school run and such, but this is what I do when I get a chance to play with makeup this week.
I ponder and ponder on how to make this look
not
looking like a pinup look. Case comparison: the impeccable Dita von Tesse.
Image from stylebistro
Certainly these two have a lot in common: red lips, winged liner, porcelain skin. But decidedly,
the Japanese Beauty theme of Addiction
favors softer brows -- both in terms of color and angle, unadorned lids and lashes, and wing at a gentle slope (which is so much more eye-friendly to droopy lids like mine). While the skin is porcelain, it is kissed with a gentle pink, almost as contour, and the lips are glossy, instead of the matte pinup, reminiscent of
Japanese lacquerware
.
I must say iPhone camera is really not that bad, considering my measly photography skill with the real camera, lol!
My version (sans any actual Addiction product, lame, I know):
Base: the flawless, velvety, porcelain skin is the key feature to this look. I came across this YouTube video of Addiction makeover to see what kind of base product was used. First, the Porcelain Skin Primer was used, much like Chanel Le Blanc if you have that. Then, Porcelain Skin Foundation, which is a powder foundation, was applied with sponge for a full coverage.
I can already tell, this type of base makeup will age me faster than having a kid or two. So, I chose something that is more suitable for my dry skin. First, I applied a thin layer of Ettusais Base Control Yellow from ages ago (I'm sure they have came out with a newer version) -- it negates the natural pink/darkness that I have on my skintone and renders the skin more porcelain. Second, I mixed a dot of Becca SSP in Pearl with the highest-coverage foundation I owned, which is Bourjois Healthy Mix Serum Foundation. Third, a healthy dose of pin-point concealing, courtesy of the Laura Mercier Secret Camouflage was warranted if I were to wear a bright red lips. Finally, the face is gently dusted with Paul & Joe Loose Face Powder, which itself is collecting dust, as I rarely need any setting powder. The result was a Noh-inspired base makeup without the actual caking.
Cheek: Ayako used two blushes: pale cool pink + light beige brown. I chose something in between: a light contour of Chanel JC Rose Ecrin, on the hollows towards the ears.
Eyes: a sweep of Burberry Trench, followed by a sheer wash of Almond for definition, just on the upper lids. A gentle slope wing is drawn using Coffret D'Or Liquid Eyeliner which I love love love: this liner dries glossy jet black, and the brush tip means it never goes dull like the felt-tip. I know Ayako applied mascara but I don't think mascara will add to the the whole feel of the eyes, which is all about the liner.
Lips: the lacquered red is another key feature of this look. Although the inspiration does not feature ombre lips, per se, I thought I'd throw it in there -- after all, a subtle ombre equals lip enhancement. I use Burberry Lip Cover in Oxblood to trace the corners of the lips and to outline, followed by FACE Stockholm Chili Flake to fill in the rest. I really love the combination of these two colors for an ombre: the cool, dusky, plumy tone of Oxblood really makes the orange-red in Chili Flake pop even more. A wash of Bobbi Brown Lip Gloss in Pink Lily is sheer enough to register the red gradation as I think a red gloss will overwhelm the whole look and wash out the ombre.
I hope you've enjoyed my version and inspired to recreate it. Wishing you a great week ahead!