The J-Coral look is perhaps the most no-brainer look in the series but with a little bit of a twist. Again, we see flip-flop placement of (colored) blush in lieu of highlighter in the J-section area around the cheek bone up toward the temple -- a doppelgänger of the red blush on the cheek hollow from last week's look. Bizzaro universe, indeed!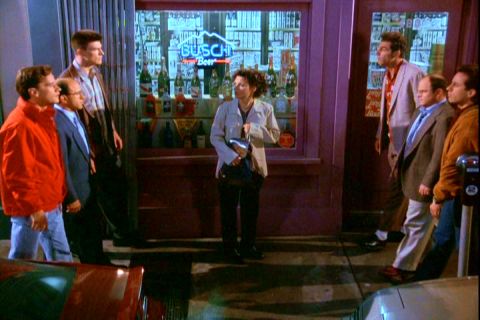 In Bizzaro Seinfeld, did Elaine probably wear her blush as contour and highlight?
The Tuto
The soft-coral blush (
Chicca Flush Blush Powder
in 05 Peach Mission, other alternative products included matte-peach from THREE, Ipsa and RMK) on top of the cheek bones creates the air of healthy "charm." Continue blending the blush upward towards the temple to give a more "lifted cheeks" effect by accentuating the J-curve.
The tutorial features powder blush using medium-sized, stubby cheek brush, not unlike Tom Ford's blush brush (although the tutorial does not specify the kind of blush brush used).
Start in the center of the cheek, from the highest point when smiling (I assume this would be the apples), glide along the cheek bone upward. Then resting the brush on the temple, brush lightly in short strokes near the hairline.
Shimmery golden wash on the moving lids (Addiction Beauty 3AM eye shadow, from Eivissa Dream collection 2014), pinky-shimmer on bottom lash line (Laura Mercier Caviar Stick in Sea Shell), slight-winged eye liner and a nude mouth (MAC Close Contact lipstick) finish the look.
Products Used
Burberry Eye Shadow in Pearl White is used as an all-over base, along with Burberry Eye Liner in Midnight Ash. In retrospect, I could have used the golden-shimmery champagne shade from Chanel Mystere quad on the upper lid and By Terry Ombre Blackstar in Frozen Quartz for the bottom lid, but I think, again, the point of the look is not the eyes but the healthy-looking cheek.
Chanel Joues Contraste in Espiegle, the perfect apricot-coral (as opposed to pinky-coral) for this look. Note that the look is achieved using matte/non-pearl blush, I think JC has somewhat of a low-wattage pearl which fits the bill.
Aerin Lipstick in Sunday Morning is my go-to nudy peachy lip.
My Impression
An easy, very wearable look, despite the bizzaro placement of blush on the highlighter area. Definitely give this a try!